Frank Dennaoui, Esq.
Associate Bagula, Riviere, Coates and Associates, LLP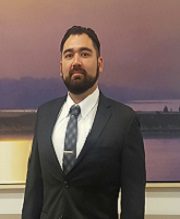 Mr. Dennaoui is a business law attorney with a diverse skill set and background in transactional law.  Mr. Dennaoui assists on a wide range of transactional matters working with various companies on their contracts and other legal documents by drafting, reviewing, and negotiating on their behalf. Mr. Dennaoui has litigation experience in business law, employment law, civil law and mass torts.  He is also experienced in business development, networking and public speaking.
Mr. Dennaoui has a passion for helping others, particularly in growing and achieving their dreams. He does this in various roles as a counselor, mentor, and by giving back to the local community. Mr. Dennaoui strives to foster positive relationships with all of his clients.  He puts emphasis on managing client relationships, including explaining legal rights and identifying goals.  Mr. Dennaoui believes that frequent communication with clients foster positive relationships. He strives to explain their legal issues to clients in terms they can understand.
Frank Dennaoui, Esq. is a graduate of the USD School of Law and received the CALI Excellence award in Trademarks for the highest grade in the class.  He has also served as an executive editor on the University of San Diego International Law Journal. Prior to law school, Mr. Dennaoui attended the University of California, Irvine, where he earned a degree in History, participated in charitable programs such as Humanities Out There, which helped tutor and mentor local school children, and was a member of the Phi Kappa Psi Fraternity.
Credentials
Bar Admissions
State Bar of California
United States District Court, Southern District of California
Education
University of San Diego School of Law
University of California, Irvine
Professional Associations and Community Service
American Bar Association
Association of Business Trial Lawyers
San Diego County Bar Association
Business Networking International
Surfrider Foundation
Areas of Practice
Civil Litigation
Business Law
Estate Planning
Mergers and Acquisitions
Corporate Formation and Organization
Employment Law
Asset Protection